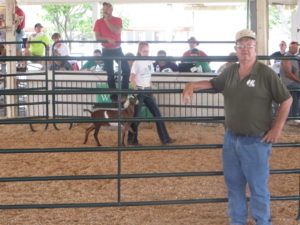 Another Washington County Fair is in the books.
A goat is auctioned off at the Washington County Fair Friday morning. Photo by Sally Y. Hart
Projects have been packed up and taken home, the barns have been swept, and livestock has been auctioned off, everything from rabbits and goats, to cattle and swine, 4-Her David Hora explains, "All of the profit from the auction goes right back to the 4-Her that put in the time to raise that animal, and spent all of their time and money preparing it." In the market beef show the Grand Champion overall market animal went to Avery Shalla. The Champion Overall Market Goat went to Spencer Arnold. In the swine show the overall market pig champion went to Shae Lynn Becker, and the pen of three champion was Logan Sieren. The overall champion in the rabbit show went to Grace Hiller. The KCII Big Red Radio was on the fairgrounds each day broadcasting live with results and interviews.