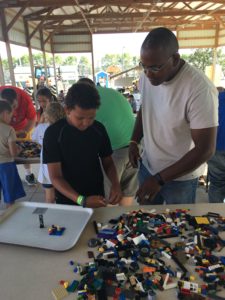 Clover kid Tyrese Wright and his dad, Daniel, work hard to construct their Lego creation. Photo courtesy of Washington County 4-H
Seventeen young Clover Kids worked, designed, and built as engineers Monday, July 17 at the 3rd Annual Clover Kid Build-Off at the Washington County Fair.
Clover kid members and an adult partner had 15 minutes and their fill of Legos to design and build. This engineering activity was sponsored by Greiner Building, Engineered Building Design, and Washington Home and Lumber Center. Representatives were there to hand out handmade wooden Lego Men to randomly drawn participants.