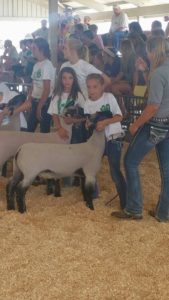 Dakota Dodd and Tessa Fishback work hard setting up their sheep in the ring with the help of their mentors. Photo courtesy of Washington County 4-H
Washington County Clover Kid third graders had their time in the show ring on Tuesday.
For the 14th year, Washington County 4-H Clover Kids had the opportunity to learn more about the sheep project through a special mentoring program which then gives them their very own County Fair Sheep Class.
Interested 3rd grade Clover Kids were paired with older 4-H sheep project members. The Clover Kids and mentors met two to three times prior to the Washington County Fair. These meetings allowed the 4-H mentor to teach the Clover Kid about sheep and how to show. Many of the Clover Kids learned about feeding and showmanship. Some even helped with shearing sheep for the fair!
During the Washington County Fair sheep show, the Clover Kids had the opportunity to show one of their mentor's lambs. The partnership of the Clover Kids and the 4-H mentors has resulted in a renewed excitement of the sheep project, new friendships, and a wealth of learning.
14 youth participants were involved this year: Dakota Dodd, Tessa Fishback, Garrett Greiner, Brena Hazelett, Paige Malichky, Emily Rinner, Hanna Rodgers, Abby Ruth, Blake Sheetz, Gavin Sieren, Audrey Smith, Erika Thomann, Nicholas West, and Allie Wulf.
4-H Clover Kids are youth in grades kindergarten through 3rd grade. For more information about Clover Kids and 4-H, please contact the Washington County Extension Office, 319/653-4811, or check the web at www.extension.iastate.edu/washington.