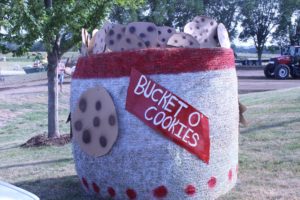 This bucket of cookies welcomes farigoers on the east side of the fairgrounds! Photo courtesy of Washington County 4-H
"Hungry, Hungry 4-H'er" was the theme of the 4-H hay bale decorating contest at the Washington County Fair this year.
13 clubs decorated bales with designs from cotton candy to Cookie Monster to watermelons. This contest is hosted by 4-H County Council.
First place went to the Franklin Cubs and their caramel apple. Second place was awarded to 4-H County Council with their bucket of cookies and third place went to the Limecreeke Limelights with their "Spill into the Farm" bale.
This was a great way for 4-H club members to work on a project together that shares their enthusiasm for the fair and showcases their artistic creativity. Come on out to the Washington County Fair and see the decorated hay bales and enjoy all the fair has to offer.
-30-
CUTLINE: