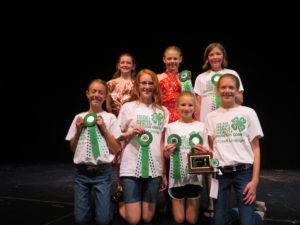 Photo courtesy of Washington County 4-H
4-H'ers participated in Share the Fun on Wednesday, July 19, 2017 at the Washington County Fair.
Acts ranged from a musical skit to vocal solo to dance routines to tickling the ivories. 16 youth participated from a variety of clubs for an audience gathered in the Community Center.
Three acts advance to the Iowa State Fair including a group skit titled "Fun at the Fair" with members from the Limecreek Limelights, Bows and Bullets, and Dutch Creek Flyers who also received the Judge's Choice Award. Maddie O'Donnell of the Limecreek Limelights playing the piano also advances as does Zoey Dennler of the Green Acres 4-H Club with her dancing routine. Other participants included Isadora Goode and Grace Conway of the Limecreek Limelights.
Share the Fun is a great way for 4-H'ers to share their talents on stage and entertain an audience. For more information on this communication event, contact the Washington County Extension Office.