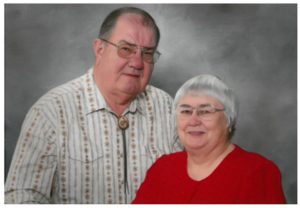 Keith and Sara Murphy. Photo courtesy of Washington County 4-H
Two 4-H sweethearts are this year's inductees in the Iowa 4-H Hall of Fame for Washington County.
Keith and Sara Murphy of Washington began dating while in the local 4-H program and have been married for 57 years. The couple have raised six children through 4-H; one year their family alone showed 18 calves. She was the leader of the Headliners 4-H Club for 23 years and he has led the Washington County Fair Livestock Auction for 61 years. Now, their grandchildren are in 4-H. Sara and Keith Murphy will be presented this honor Thursday at 6 p.m. at the Lions Club Stage at the Washington County fairgrounds, and they will also be recognized at the Iowa State Fair in August.