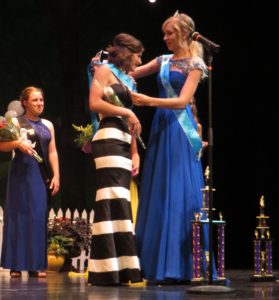 Washington County's 2016 Fair Queen Anna Pence (right) presents a sash and crown to this year's queen Makenzi Marek. Photo by KCII News Assistant Sam McIntosh
A bouquet, trophy, and crown were presented to the 2017 Washington County Fair Queen Sunday evening.
This year's queen is Makenzi Marek of the Jackson Jets 4-H Club. Marek shared what it felt like to hear her name called, "Absolutely amazing, this is a dream come true. After watching my sister be crowned a couple years ago, I knew that I wanted to be on this stage and I'm so excited right now!" Marek wanted to thank those who helped her prepare for the contest, "Thank you so much for supporting me. They did so much. We were in the barn cleaning it and they were just asking me questions, and I feel like that just prepared me so much."
First runner-up is Payton Hart. Second runner-up is Amanda Pfeifer. And the Miss Congeniality award was presented to Kylee Porter. There were seven total contestants. For more photos from the contest visit KCII's Facebook page.