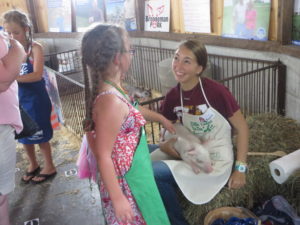 A pig is pet at Little Hands on the Farm during the 2016 Washington County Fair. Photo by Sally Y. Hart
Gathering eggs, milking a cow, and seeing how food goes from the fields to the table is part of the Little Hands on the Farm exhibit at the Washington County Fair.
The hands-on exhibit aims to educate young children about local agriculture and food supply. Jackson Jets 4-H member Jack Carter is part of the group organizing the program, "It's a lot of fun, because a lot of the kids that go there have never seen an animal or don't have very much farm experience, except for maybe a relative or something. So it's a good experience for them to be able to learn a little bit more and get some hands-on experience with agriculture." There are a variety of stations including how corn is grown and what it's used for, a bucket-bottle calf and sheep will be there to be pet, and a model calf to be milked.
Carter says he thinks it's important for young children to have this type of hands-on experience with agriculture at an early age, "Even in small town Iowa, it's amazing how many people don't know about agriculture and know where their food comes from, so I think it's really important for them to learn when they're young." The exhibit is located in the red round barn on the north end of the fairgrounds.
See the KCII Big Red Radio at the fairgrounds each day this week.