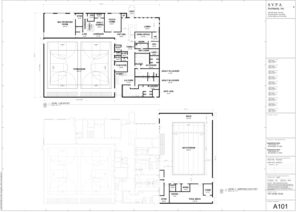 Images courtesy of the Washington YMCA
The City of Washington and the YMCA are partnering in a grant application to Enhance Iowa.
At Tuesday's Washington City Council meeting the YMCA presented their new project designs. The building will be located next to the city's new Wellness Park. City Administrator Brent Hinson explained financial figures have yet to be determined, but the council approved the "concept of working together to secure funding." Acting CEO of the YMCA Amy Schulte said they'd like to present to the Enhance Iowa board at their July meeting. Rachel Nichola with the YMCA board explained they're looking to build a new facility in phases, rather than remodel the current building because it is more cost-effective. Nichola says if they stayed in the current space and renovated, "We still wouldn't have any room to grow. We still wouldn't have any green space. We'd still have a parking problem. And the costs would far outweigh what we could come up with." Phase 1 of the YMCA costs $9 million, Phase 2 is an additional $3.5 million which would include a pool. Schulte said once the new facility is built, the YMCA on the square lease would come to an end and the new facility would have some 24 hour access. Both the Wellness Park and YMCA project have goals to break ground next year.