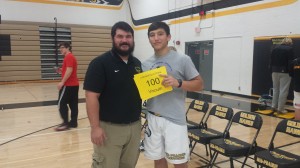 Mid-Prairie's Visouth Peterschmidt recently recorded his 100th career varsity win in a Golden Hawk uniform.
The victory came in a 51-21 Golden Hawk dual win over the West Branch Bears on December 8th at Tim Grady Gymnasium in Wellman. Peterschmidt received the victory by forfeit. He received his first career varsity win on December 5th of 2013, pinning Nathan Achenbach of Tipton in 2:50. He won his first six varsity matches to begin his career. His 50th career win came in the quarterfinals of the 2015 River Valley Conference Tournament when he beat Brendan Sander of North Cedar by fall in 3:11.
Peterschmidt is the ninth Golden Hawk in program history to join the 100 win club and the fourth to do so in the last season and a half. He also joins his brother  Phirom with the honor. Aside from the two Peterschmidt's other members of the 100 win club include Duncan McCain, Cameron Tolander, Levi Duwa, Josh Murphy, Micah Casper, Heath Ropp and Adam Greiner.
Phirom Peterschmidt holds the all-time wins record at 148.