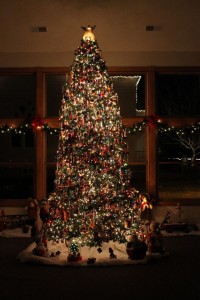 The 12 foot Kalona Historical Village Christmas tree; photo courtesy of the Kalona Historical Village
From now until January 31st, the Kalona Historical Village is holding their annual "Christmas at the Village" display. According to Director Nancy Roth, they started the tradition four years ago when they received a Fontanini nativity display from Kalona resident and friend of the Historical Village Scott Allen. The next year, Roth asked Allen if he would help decorate their 12-foot tree, and he responded by bringing in ornaments he'd been collecting for nearly 50 years to adorn the tree, as well as an animated Christmas village with more than 500 pieces. This year the tree is covered with 9,000 lights and 3,000 ornaments, and more than 50 of the ornaments are animated. Roth encourages people to search for the pickles hidden throughout the tree, which are supposed to bring good luck to those that find them.
Roth believes their Christmas display is a good way to show the community that the Historical Village is more than just old houses. She says they're always trying to find new and exciting things to bring people into the village. They don't want them to think it's always the same thing, and if they see it once that's good enough. So they try to have different displays and events that will bring in the community. The display is open for viewing during normal hours, Monday-Saturday from 11 a.m. – 3 p.m. Additionally, Roth says they will stay open until 7 p.m. Wednesday, and will be open on Christmas Eve. Admission to see "Christmas at the Village" is $6 for ages 16 and up, $2 for ages 7-15, and kids 6 and under are free. For more information, listen to the In Touch with Southeast Iowa interview with Roth at KCIIRadio.com.