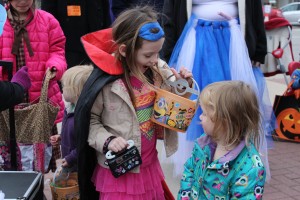 A girl takes part in Trick-or-Treat around the square last year. Photo by Sally Y. Hart
Area children will have many opportunities for Halloween fun in Washington today. Trick-or-treating will have many children ringing doorbells and collecting candy around town. Also, the Washington Chamber of Commerce is hosting it's annual trick-or-treat around the square beginning at 5 p.m. KCII's Big Red Radio will be providing spooky music downtown for the evening.
Jaime Carpenter with the chamber says usually close to 800 kids attend the event. The safe downtown event also includes a bounce house, pony rides, games at the YMCA and hayrack rides.
Another option in Washington is a new Trunk or Treat event at St. James Church. The St. James IMPACT Youth Group is hosting this event from 6 to 8 p.m. and there will be vehicles decorated and youth group members dressed up from Jonah and the Whale to Cookie Monster.