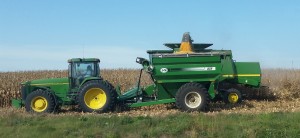 Photo by KCII News – Sally Y. Hart
Over two-thirds of the corn for grain crop has been harvested in southeast Iowa. According to the Crop Progress and Condition report from the U.S. Department of Agriculture, southeast Iowa is the only area of the state to have progressed this far into harvest so far. Also, 71% of soybeans have been harvested in southeast Iowa.
According to Extension Field Agronomist Meaghan Anderson, she's hearing "really good things about corn yields" with most field averages above 200 bushels per acre, and some farmers reporting above 225 bushels per acre. Anderson says yields are very variable for soybeans, depending on the maturity range of the soybeans and if the field had sudden death syndrome issues. She says the lowest yields may be in the 40's for bushels per acre, but some farmers are seeing the mid-60's.