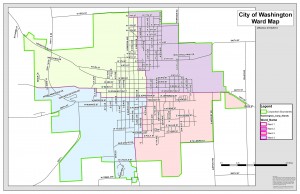 Only those who reside in Ward 2, the northeast corner, the purple area of the map can vote in the special election. Map courtesy of Washington County Auditor
Early voting is now open for Washington's city council special election. Washington County Auditor Dan Widmer explains only registered voters from Ward 2 of Washington, the northeast quadrant of town, can vote in this special election. Residents of Ward 2 can cast ballots at the courthouse or request a ballot be mailed to their home. There are two candidates on the ballot Steve Gault and Merle Hagie.
The election will be held Tuesday, September 20th, from noon to 8 p.m. and the only polling location is the Central Park Community Center. Listen to KCII that evening for live results from the Washington County Courthouse.