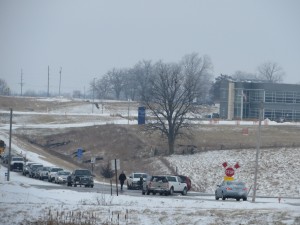 Traffic is slowed for a wreck. Photo by Sally Hart

A multiple-vehicle accident near the Kirkwood Regional Center in Washington caused a traffic slowdown Wednesday morning. The accident was reported just after 11 a.m. at the intersection of Highway 1 and Lexington Boulevard.
The collision involved a van, pickup truck, and a sports utility vehicle.
Washington sheriff's deputies and Washington police responded to the scene. This is a developing story and KCII News will bring you more information when it becomes available.