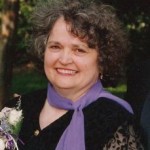 Visitation: 2-8 p.m. January 01, 2010 at Fairview Mennonite Church
Funeral Service: 2:00 p.m. January 02, 2010 at Fairview Mennonite Church
Interment: January 02, 2010 at Fairview Cemetery
KALONA – Lulu Jane Brenneman Miller was born November 1, 1939 in rural Kalona, Iowa the daughter of Ephraim B. and Anna Faye (Christner) Brenneman. She graduated from Iowa Mennonite High School and attended Eastern Mennonite College and Kirkwood Community College. She spent several years with the Northen Light Gospel Missions in Red Lake, Ontario, Canada. On June 27, 1964 she was united in marriage to Virgil Miller at the Fairview Mennonite Church in rural Kalona. Jane has lived in the Kalona community all of her life where she worked as a secretary for S & S Carting Company and Austin Associates. She was a member of the Living Word Fellowship. She held various offices in the Rural Letter Carriers Auxiliary. She enjoyed transcribing and volunteering. Jane died on Wednesday, December 30, 2009, at Mercy Hospital in Iowa City at the age of 70 years. Jane is survived by her husband Virgil of Kalona; two sons – Bruce A. Miller (Monica) of North Ridge, California; Dr. Scott D. Miller (Karen) of Ottumwa; six grandchildren – Celeste, Emery "Emme", Brooke, Isaac, Tessa and Evan; two brothers – Ivan Brenneman (Paula) of Marina, California; Milford Brenneman of Anaheim, California; a sister – Mary Gingerich of Nashwauk, Minnesota; two sisters-in-law Anna Brenneman of Stuarts Draft, Virginia; Mary Kathryn Brenneman of Tampa, Florida; and a brother-in-law J. Edward Yoder of Donnellson. She was preceded in death by her parents; a stillborn son Peter Nathanael Miller; four brothers – David Brenneman, Gaylord Brenneman, Evan Brenneman, and Virgil Brenneman; a sister Mildred Yoder; a brother-in-law Leslie Gingerich; and a sister-in-law Helen Brenneman. Funeral Services will be held at 2:00 p.m. on Saturday, January 2, 2010 at the Fairview Mennonite Church in rural Kalona. Ministers in charge are Chuck Rogness and Craig Haworth. Burial will be in the Fairview Cemetery. Visitation will be held from 2-8 p.m. on Friday at the Fairview Mennonite Church where the family will greet friends from 2-4 and 6-8 p.m.