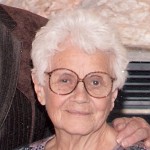 Services: Kalona
Friday, Dec. 18, 6:00 PM
Peterseim Funeral Home, Kalona
Monday, Dec. 21, 1:00 PM
Lincoln Park Memorial Chapel, Lincoln, NE
Visitation: Kalona 4-6 PM Friday
Lincoln noon – 1:00 PM Lincoln Park Chapel
Burial: Lincoln Park Memorial Cemetery
Eva Louise Hudson was born in Pleasantdale, Nebraska on April 24, 1916. She was the daughter of Orie and Mary Kuskie Cole.
She was united in marriage to Kenneth Laverne Hudson on May 22, 1936.
She lived in and around Lincoln, Nebraska much of her life before moving to Minnesota, where she lived for many years. Then in retirement years she and Kenny traveled from the northern to southern borders of country and lived in many places in between.
She held jobs of many descriptions, such as: waitress, dog groomer, seamstress and garment tailor, farmers wife, resort owner and operator, and Elgin watch factory employee. She retired from Sears Roebuck and Co. after many years as a sales clerk.
She was a loving mother and grandmother to her two sons, six grandchildren, seventeen great grandchildren, and eight great, great grandchildren.